18 Volumen XIX, Número 3 PHYTOCHEMICAL PROFILE AND EVALUATION OF PHOTOPROTECTIVE POTENTIAL OF Syringodium filiforme KÜTZING
Palabras clave:
Syringodium filiforme Kützing, ultraviolet, photoprotective, chronic skin damage
Resumen
Syringodium filiforme Kützing (Cymodoceaceae) is a marine seagrass abundant in Caribbean Sea, rich in phenolic compounds which have antioxidant properties and can provide new opportunities for treatment and prevention of diseases mediated by ultraviolet radiation like photoaging and skin cancer. The aim of this study was to evaluate the phytochemical profile and the photoprotective potential of S. filiforme leaf extracts . Total phenolic and flavonoid contents were 72.85 ± 0.72 mg pyrogallol equivalents/g dry extract (PE) and 59.09 ± 0.45 mg quercetin equivalents/g dry extract (QE), respectively. The total anthocyanins content was 1.35 ± 0.02 mg malvidin-3-O-glucoside equivalents/g dry extract (ME). The extract showed photoprotector potential in the UVB region. The S. filiforme treated mice showed a significantly decreased wrinkling score, and a reorganization of the collagen fiber was observed compared with irradiated and not treated skin. These results suggest that the crude extract of S. filiforme leaves may be a promising natural sunscreen product.
Citas
Bowden GT. 2004. Prevention of non-melanoma skin cancer by targeting ultraviolet-B-light signaling. Nature Reviews Cancer
: 23-35.
Bradford MM. 1976. A rapid and sensitive method for the quantification of microgram quantities of proteins utilizing the principle of protein- dye binding. Analytical Biochemistry 72: 248-254.
British Pharmacopoeia B. 2009. Herbal Drugs and Herbal Drug Preparation Kelp, Volume III. The Stationary Office, London. D'Orazio J, Jarrett S, Maro-Ortiz A, Scott T. 2013. UV Radiation and the skin. International Journal of Molecular Sciences 14: 12222 12248.
Dubois M, Gilles KA, Hamilton JK, Rebers PA, Smith F. 1956. Colorimetric method for determination of sugars and related substances. Anal Chemistry 28: 350-356.
Fuleki T, Francis FJ. 1968. Quantitative methods for anthocyanins. Journal of Food Science 33: 78-83.
Glogau RG. 1996. Aesthetic and anatomic analysis of the aging skin. Seminars in Cutaneous Medicine and Surgery 15:134-138.
Gómez-Lechón MJ, Ponsoda X, O'Connor E, Donato MT, Castell JV, Jover R. 2003. Diclofenac induces apoptosis in hepatocytes by alteration of mitochondrial function and generation of ROS. Biochem Pharmacol 66: 2155-2167.
González García KL, Valdés Iglesias O, Laguna A, Díaz Martínez M, González Lavaut JA. 2011. Efecto antioxidante y contenido polifenólico de Syringodium filiforme (Cymodoceaceae). Revista de Biología Tropical 59: 465-471.
Kim JH, Cho YH, Park SM, Lee KE, Lee JJ, Lee BC, Pyo HB, Song KS, Park HD, Yun YP. 2004. Antioxidants and inhibitor of matrix metalloproteinase-1 expression from leaves of Zostera
marina L. Archives of Pharmacal Research 27: 177-183.
Kim MJ, Woo SW, Kim MS, Park JE, Hwang JK. 2014. Antiphotoaging effect of aaptamine in UVB-irradiated human dermal fibroblasts and epidermal keratinocytes. Journal of Asian Natural Products Research 16: 1139-1147.
Lo JA, Fisher DE. 2014. The melanoma revolution: From UV carcinogenesis to a new era in therapeutics. Science 346: 945-949.
Nuissier G., Rezzonico B., Grignon-Dubois M. 2010. Chicoric acid from Syringodium filiforme. Food Chemistry 120: 783–788.
Oresajo C, Pillai S, Manco M, Yatskayer M, McDaniel D. 2012. Antioxidants and the skin: Understanding formulation and efficacy. Dermatologic Therapy 25: 252–259.
Pallela R., Na-Young Y., Kim S. K. 2010. Anti-photoaging and photoprotective compounds derived from marine organisms. Mar Drugs 8: 1189-1202.
Regalado EL, Rodríguez M, Menéndez R, Concepción AA, Nogueiras C, Laguna A, Rodríguez AA, Williams DE, Lorenzo-Luaces P, Valdés O, Hernandez Y. 2009. Repair of UVB-damaged skin by the antioxidant sulphated flavone glycoside thalassiolin B isolated from the marine plant Thalassia testudinum Banks ex König. Mar Biotechnol 11:74-80.
Ryu B, Qian ZJ, Kim MM, Nam KW, Kim SK. 2009. Anti-photoaging activity and inhibition of matrixmetalloproteinase (MMP) by marine red alga, Corallina pilulifera methanol extract. Radiation Physics and Chemistry 78: 98–105.
Saija A, Tomatino A, Lo Cascio R, Trombetta D, Proteggente A, De Pasquale A, Uccella N, Bonina F. 1999. Ferulic and caffeic acids as potential protective agents against photooxidative skin damage. Journal of the Science of Food and Agriculture 79: 476–480.
Subhashini P, Dilipan E, Thangaradjou T, Papenbrock J. 2013. Bioactive natural products from marine angiosperms: abundance and functions. Natural Products and Bioprospecting 3: 129–136.
Wijesinghe WAJP, Jeon Y-J. 2011. Biological activities and potential cosmeceutical applications of bioactive components from brown seaweeds: a review. Phytochemistry Reviews 10: 431–443.
Woisky R, Salatino A. 1998. Analysis of propolis: some parameters and procedures for chemical quality control. J Apic Res 37:
-105.
Wrolstad R, Acree T, Decker E, Reid D P, Schwartz S, Shoemaker C, Smith D, Sporns P. 2005. Handbook of Food Analytical Chemistry. John Wiley & Sons, Hoboken.
Zhao Y, Chen P. 2014. Natural products with health benefits from marine biological resources. Current Org Chemistry 18: 777-792.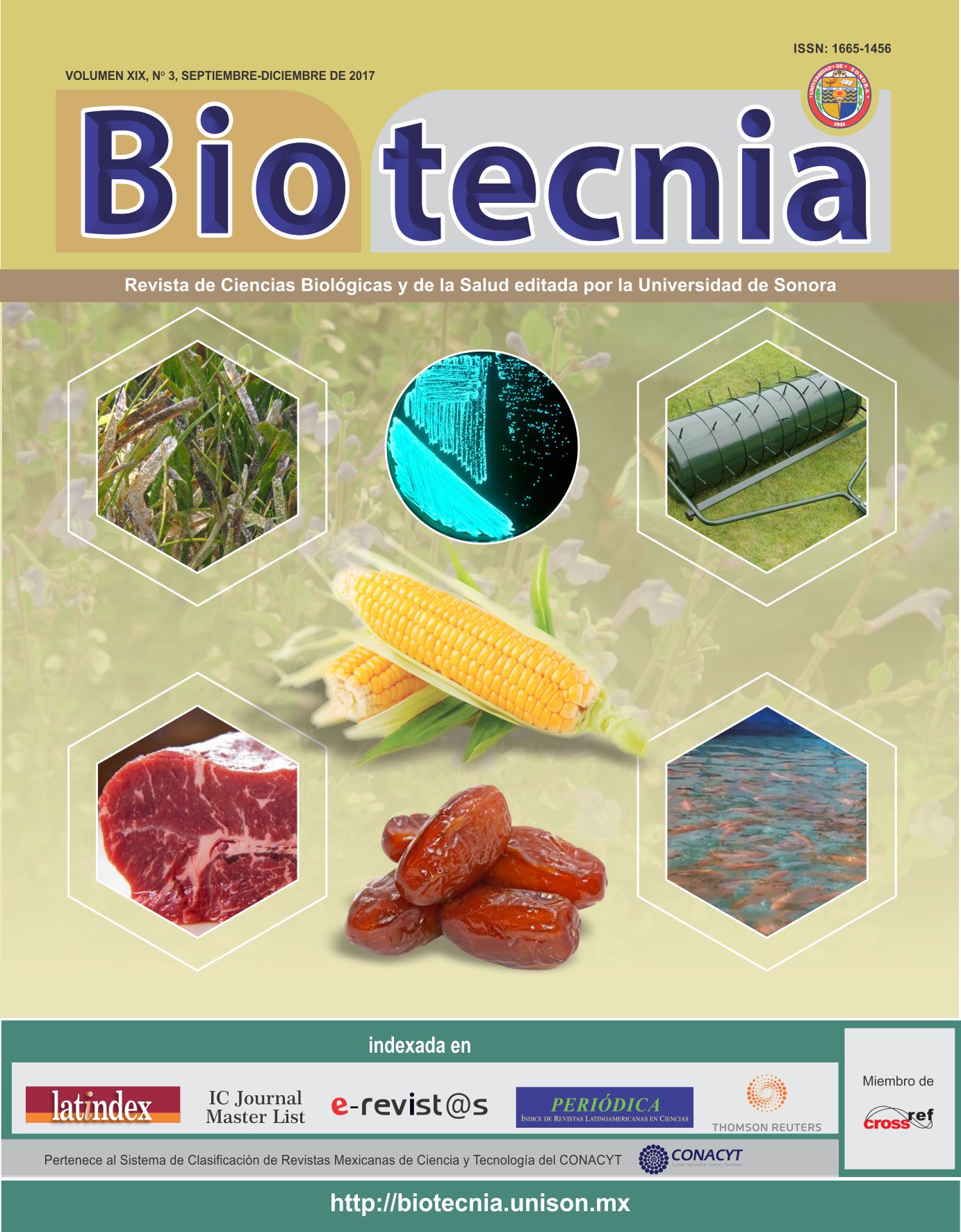 Descargas