Características fisicoquímicas, sensoriales y microbiológicas de queso crema elaborado con adición de bacterias ácido lácticas como cultivo iniciador//Physicochemical, sensory, and microbiological characteristics of 'queso crema' cheese made with lactic acid bacteria as a starter culture
Palabras clave:
índice R, leche no pasteurizada, microorganismos autóctonos, prueba de preferencia
Resumen
El objetivo del presente trabajo fue aislar bacterias ácido lácticas de leche y queso crema del estado de Chiapas, México y evaluar su efecto como cultivo iniciador en las características fisicoquímicas (color, firmeza, consistencia, humedad, acidez titulable, proteína, grasa y cenizas), sensoriales (sabor, aroma, textura, cremosidad y acidez) y microbiológicas (coliformes totales, mohos y levaduras) del mismo queso elaborado a partir de leche pasteurizada. Mediante resiembra consecutiva en placas con agar MRS, se aislaron 101 cepas de diferentes morfologías a partir de muestras de leche y queso crema elaborado con leche no pasteurizada, de las cuales 26 fueron presuntivamente ácido lácticas. Por su capacidad acidificante (descenso del pH) se seleccionaron siete cepas, con las cuales se formularon tres tratamientos (combinaciones de tres cepas, denominados T2-T4). El tratamiento que, después del queso control (T1) sensorialmente fue el más aceptado por los jueces, se reformuló en tres nuevas combinaciones de dos cepas (T5-T7). De estos tratamientos, el T5 (cepas E16 y E23) fue similar en color, aroma, sabor, textura y cremosidad al control (queso elaborado con leche sin pasteurizar). A pesar de que fueron diferentes en cuanto a la acidez, los jueces no lograron diferenciar (prueba cuantitativa) el queso T5 del control.
ABSTRACT
The aim of this work was to isolate lactic acid bacteria from milk and 'queso crema' cheese and evaluate their effect as starter on physicochemical (color, firmness, consistency, moisture, titratable acidity, protein, fat, and ash), sensory (flavor, aroma, texture, creaminess and sourness), and microbiological (total coliforms, molds and yeasts) characteristics of the same cheese made using pasteurized milk. By consecutive plating on MRS agar, 101 strains of different morphologies were isolated from samples of milk and cheese made with unpasteurized milk, of which 26 were presumptively lactic acid. Due to its acidifying capacity (measured as a decreased in pH), seven strains were selected, with which three treatments were formulated (combinations of three strains, called T2-T4). The treatment that, after the control cheese (T1) was the most accepted by the judge's panel, was reformulated in three new combinations of two strains each (T5-T7). Of these treatments, T5 (containing strains E16 and E23) was similar in color, aroma, flavor, texture and creaminess to the control (cheese made with unpasteurized milk). Although the T5 cheese was different to control in acidity, the judges could not differentiate (quantitative test) between both samples.
Citas
Alfonso, E. y Cabeza-Herrera, E. 2006. Bacterias ácido lácticas (BAL): aplicaciones como cultivos estárter para la industria láctea y cárnica. Simposio Regional de Microbiología: Microorganismos Eficientes en el Sector Productivo, At Universidad Libre Seccional Barranquilla-Colombia, doi: 10.13140/2.1.2241.2169.
AOAC. 2010. Official Methods of Analysis. 18 Edition. Association of Official Analytical Chemists. Washington DC, USA.
Bi, J. y O´Mahony, M. 2007. Updated and extended table for testing the significance of the R-index. Journal of Sensory Studies. 22(6): 713-720.
Cárdenas, N., Calzada, J., Peirotén, A., Jiménez, E., Escudero, R., Rodríguez, J.M., Medina, M. y Fernández, L. 2014. Development of a potential probiotic fresh cheese using two Lactobacillus salivarius strains isolated from human milk. BioMed Research International. Article ID 801918.
Chaparro-Hernández, J., Castillejos-Gómez, B.I, Carmona- Escutia, R.P., Escalona-Buendía, H.B. y Pérez-Chabela, M.L. 2013. Evaluación sensorial de salchichas con harina de cáscara de naranja y/o penca de maguey. NACAMEH. 7: 23- 40.
Cobo-Monterroza, R., Rosas-Quijano, R., Gálvez-López, D., Adriano-Anaya, L., Vázquez-Ovando, A. 2019. Bacterias ácido lácticas nativas como cultivo iniciador para la elaboración de queso crema mexicano. Agronomía Mesoamericana. Aceptado.
De Almeida, J.W.L., da Silva-Ferrari, Í., Souza, J.V., da Silva, C.D.A., da Costa, M.M. y Dias, F.S. 2015. Characterization and evaluation of lactic acid bacteria isolated from goat milk. Food Control. 53: 96-103.
Esmerino, E.A., Cruz, A.G., Pereira, E.P., Rodrigues, J.B., Faria, J.A. y Bolini, H. M. 2013. The influence of sweeteners in probiotic Petit Suisse cheese in concentrations equivalent to that of sucrose. Journal of Dairy Science. 96(9): 5512-5521.
Fortin, M.H., Champagne, C.P., St-Gelais, D., Britten, M., Fustier, P. y Lacroix, M. 2011. Effect of time of inoculation, starter addition, oxygen level and salting on the viability of probiotic cultures during Cheddar cheese production. International Dairy Journal. 21(2): 75-82.
Genigeorgis, C., Carniciu, M., Dutulescu D. y Farver, T.B. 1991. Growth and survival of Listeria monocytogenes in market cheeses stored at 4 to 30 °C. Journal of Food Protection. 54(9): 662-668.
Golić N., Cadež, N., Terzić-Vidojević, A., Suranská, H., Beganović, J., Lozo, J., Kos, B., Sušković, J., Raspor, P. y Topisirović, L. 2013. Evaluation of lactic acid bacteria and yeast diversity in traditional white pickled and fresh soft cheeses from the mountain regions of Serbia and lowland regions of Croatia. International Journal of Food Microbiology. 166(2): 294-300.
Gomes A.A., Braga, S.P., Cruz, A.G., Cadena, R.S., Lollo, P.C., Carvalho, C., Amaya-Farfán, J., Faria, J.A. y Bolini, H.M. 2011. Effect of the inoculation level of Lactobacillus acidophilus in probiotic cheese on the physicochemical features and sensory performance compared with commercial cheeses. Journal of Dairy Science. 94(10): 4777-4786.
González, L., Fernández-Cuadrillero, A., Castro, J.M., Bernardo, A. y Tornadijo, M.E. 2015. Selection of lactic acid bacteria isolated from San Simón da Costa Cheese (PDO) in order to develop an autochthonous starter culture. Advances in Microbiology. 5: 748-749.
González-Córdova, A.F., Yescas, C., Ortiz-Estrada, Á.M., De la Rosa- Alcaraz, M. A., Hernández-Mendoza, A. y Vallejo-Cordoba, B. 2016. Invited review: Artisanal Mexican cheeses. Journal of Dairy Science. 99(5): 3250-3262.
Granados-Rivera, L.D., Hernández-Mendo, O., Burgueño- Ferreira, J.A., González-Muñoz, S.S., Mendoza-Martínez, G.D., Mora-Flores, J.S. y Arriaga-Jordán C.M. 2018. Mexican tropical cream cheese yield using low-fat milk induced by trans-10, cis-12 conjugated linoleic acid: effect of palmitic acid. CyTA-Journal of Food. 16(1): 311-315.
Guerrero, L., Guàrdia, M.A., Xicola, J., Verbeke, W., Vanhonacker, F., Zakowska-Biemans, S., Sajdakowska, M., Sulmont-Rossé, C., Issanchou, S., Contel, M., Scalvedi, M. L., Granli, B.S. y Hersleth, M. 2009. Consumer-driven definition of traditional food products and innovation in traditional foods. A qualitative cross-cultural study. Appetite. 52(2): 345-354.
Guzman-Hernandez, R., Contreras-Rodriguez, A., Hernandez- Velez, R., Perez-Martinez, I., Lopez-Merino, A., Zaidi, M.B. y Estrada-Garcia, T. 2016. Mexican unpasteurised fresh cheeses are contaminated with Salmonella spp., non-O157 Shiga toxin producing Escherichia coli and potential uropathogenic E. coli strains: A public health risk. International Journal of Food Microbiology. 237: 10-16.
Kandler, O. y Weiss N. 1992. Regular, nonsporing Gram-positive rods. En P. H. A. Sneath, M.S. Mair, M.E. Sharp y J.G Holt (Editor). Bergey´s Manual of Systematic Bacteriology. 10th edition, vol. 2. The Williams and Wilkins Co; Baltimore.
Kasrazadeh, M. y Genigeorgis, C. 1994. Potential growth and control of Salmonella in Hispanic type soft cheese. International Journal of Food Microbiology. 22: 127-140.
Møller, K.K., Rattray, F.P. y Ardö, Y. 2013. Application of selected lactic acid bacteria and coagulant for improving the quality of low-salt Cheddar cheese: Chemical, microbiological and rheological evaluation. International Dairy Journal. 33(2): 163-174.
Küçüköner, E. y Haque, Z.U. 2006. Physicochemical properties of low-fat and full-fat Cheddar cheeses. International Journal of Dairy Technology. 59(3): 166-170.
Lozano-Moreno, O. y Villegas-De Gante A. 2016. Valorización simbólica del Queso Crema de Chiapas, un queso tradicional mexicano con calidad de origen. PASOS. Revista de Turismo y Patrimonio Cultural. 14(2): 459-473.
Mira-de Orduña, R., Patchett, M.L., Liu S.Q. Y Pilone, J.G. 2001. Growth and arginine metabolism of the wine lactic acid bacteria Lactobacillus buchneri and Oenococcus oeni at different pH values and arginine concentrations. Applied and Environmental Microbiology. 67(4): 1657-1662.
Morales-Celaya, M.F., Lobato-Calleros, C., Alvarez-Ramirez, J. y Vernon-Carter, E.J. 2012. Effect of milk pasteurization and acidification method on the chemical composition and microstructure of a Mexican pasta filata cheese. LWT-Food Science and Technology. 45(2): 132-141.
NOM-111-SSA1-1994. Bienes y servicios. Método para la cuenta de mohos y levaduras en alimentos. http://www.salud.gob.mx/unidades/cdi/nom/111ssa14.html.
NOM-113-SSA1-1994. Bienes y servicios. Método para la cuenta de microorganismos coliformes totales en placa. http://www.salud.gob.mx/unidades/cdi/nom/113ssa14.html.
NOM-243-SSA1-2010. Productos y servicios. Leche, fórmula láctea, producto lácteo combinado y derivados lácteos. Disposiciones y especificaciones sanitarias. Métodos de prueba. http://www.dof.gob.mx/nota_detalle.php?codigo=5160755&fecha=27/09/2010.
Ortiz-Balderas, M. 2006. Identificación bioquímica de bacterias ácido lácticas aisladas a partir de productos lácteos en el Estado de Hidalgo. Tesis de Licenciatura, Instituto de Ciencias Básicas e Ingeniería, Universidad Autónoma del Estado de Hidalgo. 89 pp.
Picon A., Garde, S., Ávila, M. y Nuñez, M. 2016. Microbiota dynamics and lactic acid bacteria biodiversity in raw goat milk cheeses. International Dairy Journal. 58: 14-22.
Pszczola, D.E. 2007. Meeting the acid test. Food Technology. 5: 47-59.
Ramírez-Ramírez, J.C., Rosas-Ulloa, P., Velázquez-González, M.Y., Ulloa, J.A., Arce-Romero, F. 2011. Bacterias lácticas: importancia en alimentos y sus efectos en la salud. Revista Fuente. 2(7): 1-15.
Ramos-Izquierdo, B., Bucio-Galindo, A., Bautista-Muñoz, C., Aranda-Ibáñez, E. y Izquierdo-Reyes, F. 2009. Aislamiento, identificación y caracterización de bacterias ácido lácticas para la elaboración de queso crema tropical. Universidad y Ciencia. 25(2): 159-171.
Rangel-Ortega, S.C. 2011. Identificación y caracterización de los consorcios microbianos del queso crema tropical. Tesis de maestría. Centro de Investigación en Alimentación y Desarrollo, A. C. México, 65 pp.
Romero-Castillo, P.A., Leyva-Ruelas, G., Cruz-Castillo, J.G. y Santos-Moreno, A. 2009. Evaluación de la calidad sanitaria de quesos crema tropical mexicanos de la región de Tonalá, Chiapas. Revista Mexicana de Ingeniería Química. 8: 111- 119.
Sameh A., Ahmed N. y El Soda, M. 2007. Evaluation of isolated starter lactic acid bacteria in Ras cheese ripening and flavour development. Food Chemistry. 104(3): 1192-1199.
Sánchez-Macías, D., Morales-de la Nuez, A., Torres, A., Hernández- Castellano, L. E., Jiménez-Flores, R., Castro, N. y Argüello, A. 2013. Effects of addition of somatic cells to caprine milk on cheese quality. International Dairy Journal. 29(2): 61-67.
Terzić-Vidojević, A., Tonković, K., Leboš-Pavunc, A., Beganović, J., Strahinić, I., Kojić, M., Veljović, K., Golić, N., Kos, B., Čadež, N., Gregurek, L., Šušković, J., Raspor, P. y Topisirović, L. 2015. Evaluation of autochthonous lactic acid bacteria as starter cultures for production of white pickled and fresh soft cheeses. LWT-Food Science and Technology. 63: 298-306.
Torres-Llanez, M.J., Vallejo-Cordoba, B., Díaz-Cinco, M.E., Mazorra-Manzano, M. A. y González-Córdova, A.F. 2006. Characterization of the natural microflora of artisanal Mexican Fresco cheese. Food Control. 17(9): 683-690.
Vázquez-Velázquez, R., Salvador-Figueroa, M., Adriano-Anaya, L., De Gyves-Córdova, G. y Vázquez-Ovando, A. 2018. Use of starter culture of native lactic acid bacteria for producing an artisanal Mexican cheese safe and sensory acceptable. CyTA-Journal of Food. 16(1): 460-468.
Walstra, P., Geurts, T.J, Normen, A., Jellema, A. y Van Boekel M.A.J.S. 2001. Ciencia de la leche y tecnología de los productos lácteos. Editorial Acribia S.A. España. 730 p.
Wichchukit, S. y O´Mahony, M. 2015. The 9-point hedonic scale and hedonic ranking in food science: some reappraisals and alternatives. Journal of the Science of Food and Agriculture. 95: 2167-2178.
Zheng, Y., Liu, Z. y Mo, B. 2016. Texture profile analysis of sliced cheese in relation to chemical composition and storage temperature. Journal of Chemistry. Article ID 8690380.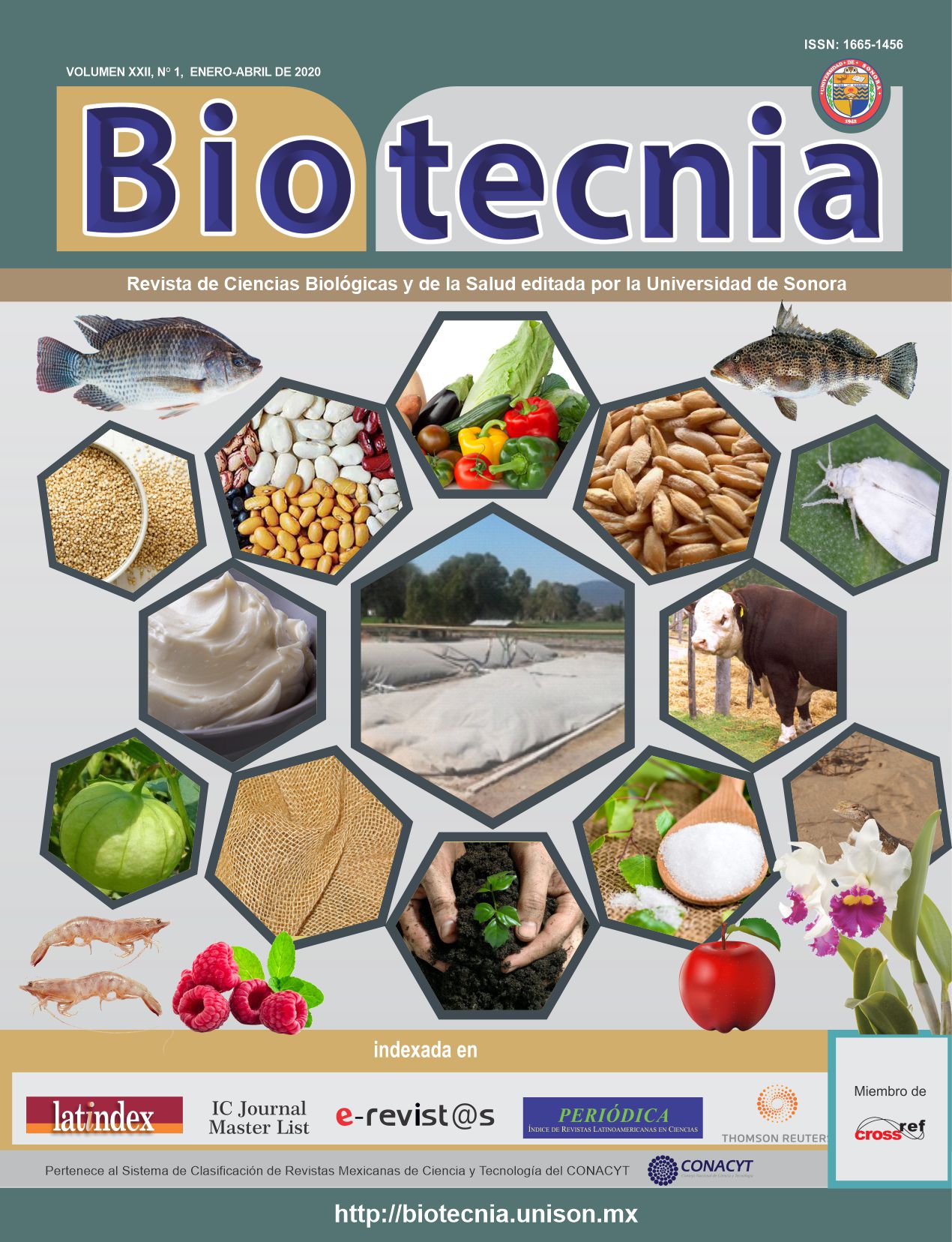 Licencia
La revista Biotecnia se encuentra bajo la licencia Atribución-NoComercial-CompartirIgual 4.0 Internacional (CC BY-NC-SA 4.0)