Síntesis de soportes cerámicos basados en HA+In2TiO5 para crecimiento acelerado de Mycobacterium smegmatis
Palabras clave:
Materiales cerámicos, , In2TiO5, Mycobacteria, Fotocatálisis, Hidroxiapatita
Resumen
Los materiales cerámicos han sido recientemente utilizados como sustratos en aplicaciones biomédicas. El objetivo de este trabajo, fue el de sintetizar soportes prepa­rados a partir de hidroxiapatita (HA) y titanato de indio (In­2TiO5) para su aplicación en el crecimiento de Mycobacterium smegmatis (Ms). In2TiO5, es un óxido ternario con estructura cristalina abierta que ha sido ampliamente estudiado princi­palmente por su resistencia al ambiente y tiene aplicaciones como refractario y fotocatalizador. Por otra parte, debido a su corto tiempo de generación y bajos requerimentos de bioseguridad, Ms, se considera un modelo apropiado para el estudio de Mycobacteria en general, y es útil para ensayos con agentes anti-tuberculosis. Los soportes cerámicos, se caracterizaron estructuralmente mediante MEB, EDX y DRX de polvos. El medio de cultivo MDB 7H9 conteniendo a los soportes, incrementó su concentración de oxígeno, lo que se atribuyó a la fotocátalisis promovida por In2TiO5 tras la exposición a la luz solar. Así mismo, el uso de los soportes cerámicos incrementó ocho veces la concentración mínima inhibitoria en los ensayos de rezasurina en microplaca. Adi­cionalmente, se encontró crecimiento de Ms 24 horas antes con respecto al control sin soporte, lo cual mejora el tiempo de obtención del diagnóstico.
Citas
Annaz, B., Hing, K.A., Kayser M. y Buckland T. 2004. Porosity variation in hydroxyapatite and osteoblast morphology: a scanning electron microscopy study. Journal of Microscopy. 215: 100-110.
Bagambisa B. y Joos U. 1990. Preliminary studies on the phenomenological behaviour of osteoblasts cultured on hydroxyapatite ceramics. Biomaterials. 11: 50-56.
Baxter, F.R., Bowen, C.R., Turner, I., Bowen, J.P., Gittings, J.P. y Chaudhuri, J.B. 2009. An in vitro study of electrically active hydroxyapatite-barium titanate ceramics using Saos-2 cells. Journal of Materials Science: Materials in Medicine. 20: 1697- 1708.
Bonkat, G. y Bachmann A. 2012. Growth of mycobacteria in urine determined by isothermal microcalorimetry: implications for urogenital tuberculosis and other mycobacterial infections. Urology. 80(5): 1163, 1169-1112.
Chakraborty, P. y Kumar, A. 2019. The extracellular matrix of mycobacterial biofilms: could we shorten the treatment of mycobacterial infections? Mycrobial Cell. 6(2): 105-122.
Henke, J.M. y Bassler B.L. 2004. Bacterial social engagements. Trends in Cell Biology. 14: 648-56.
Hertog, A.L., Visser, D.W., Ingham, C.J., Fey, F.H. y Anthony, R.M. 2010. Simplified automated image analysis for detection and phenotyping of Mycobacterium tuberculosis on porous supports by monitoring growing microcolonies. Anil Kumar Tyagi. 5: 1008.
Khalifa, R.A., Nasser, M.S., Goma, A.A. y Osman, N.M. 2013. Resazurin microtiter assay plate method for detection of susceptibility of multidrug resistant Mycobacterium tuberculosis to second-line anti-tuberculous drugs. Egyptian Journal of Chest Diseases and Tuberculosis. 62: 241-247.
Kulka, K., Hatfull, G. y Ojha, A. K. 2012. Growth of Mycobacterium tuberculosis biofilms. Journal of Visualized Experiments. 60: 3820.
Muñoz, I.C., Brown, F., Vazquez-Paz, F.M., Marcazzó y J. Cruz- Zaragoza, E. 2016. Termoluminiscencia de titanato de indio activado con europio. Revista Electrónica Nova Scientia.16: 77-90.
Ojha A., Anand M., Bhatt A., Kremer L., Jacobs W.R. Jr y Hatfull G.F. 2005. GroEL1: a dedicated chaperone involved in mycolic acid biosynthesis during biofilm formation in mycobacteria. Cell. 123(5): 861-873.
O'Toole, G.A. y R. Kolter. 1998. Initiation of biofilm formation in Pseudomonas fluorescens WCS365 proceeds via multiple, convergent signaling pathways: a genetic analysis. Molecular Microbiology. 28: 449-61.
Reyrat, J.M. y D. Kahn (2001). Mycobacterium smegmatis: an absurd model for tuberculosis? Trends in Microbiology. 9: 472-4.
Salem, K.A., Stevens, R., Pearsons, R.G., Davies, M.C., Tendler, S.J.B., Roberts, C.J., Williams, P.M. y Shakesheff, K.M. 2002. Interaction of 3T3 fibroblasts and endothelial cells with defined pore features. J. Biomed. Mater. Res. 61: 212–217.
Sempere, M.A., Valero-Guillén, P.L., de Godos, A. y Martín- Luengo, F. 1993. A triacyl trehalose containing 2-methyl branched unsaturated fatty acyl groups isolated from Mycobacterium fortuitum. Journal of General Microbiology. 139: 585-590.
Senegas, J.P. y Galy J. 1975. Sur un nouveau type d'oxydes doubles m+iv In2o5 (m = Ti, V): etude cristallochimique. Acta Crystallogr. Sect. B. 31: 1614.
Shi, T., Fu, T. y Xie, J. 2011. Polyphosphate deficiency affects the sliding motility and biofilm formation of Mycobacterium smegmatis. Current Microbiology. 63: 470-476.
Subrahmanyam, A., Arokiadoss, T. y Ramesh, T.P. 2007. Studies on the oxygenation of human blood by photocatalytic action. Artificial Organs. 31: 819-825.
Subrahmanyam, A., Thangaraj, P.R., Kanuru, Ch., Jayakumar y A., Gopal, J. 2014. Quantification of photocatalytic oxygenation of human blood. Medical Engeneering and Physics. 36: 530- 533.
Syed, A., Khalid, A., Sikander, K.S., Nazia, B. y Shahana, U. K. 2014. Detection of Mycobacterium smegmatis biofilm and its control by natural agents. International Journal of Current Microbiology and Applied Sciences. 3: 801-812.
Shi, T., Fu, T. y Xie, J. 2011. Polyphosphate deficiency affects the sliding motility and biofilm formation of Mycobacterium smegmatis. Current Microbiology. 63: 470-6.
Wang, W.D., Huang, F.Q., Liu, C.M., Lin X.P. y Shi J.L. 2007. Preparation, electronic structure and photocatalytic activity of the In2TiO5 photocatalyst. Materials Science & Engineering B. 139: 74-80.
WHO, World Health Organization. Global tuberculosis report. [Consultado 20 diciembre 2019]2019. Disponible en: http://www.who.int/tb/publications/global_report/en/fecha=17/10/2019.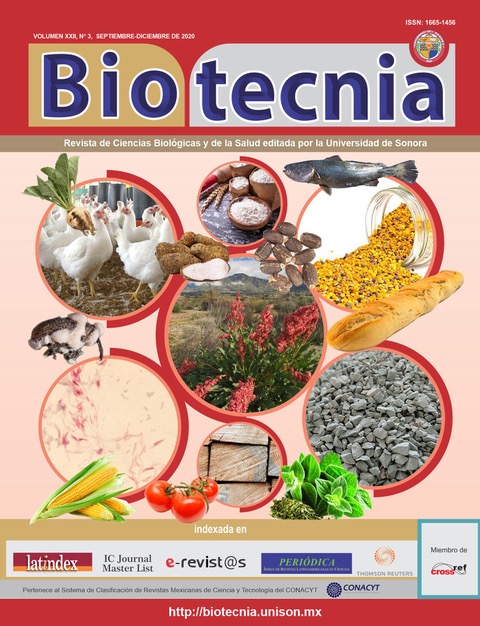 Descargas
Licencia
La revista Biotecnia se encuentra bajo la licencia Atribución-NoComercial-CompartirIgual 4.0 Internacional (CC BY-NC-SA 4.0)