Contenido de acetogeninas a partir de semillas del fruto de guanábana (Annona muricata L.): Evaluación de diferentes condiciones de extracción
Palabras clave:
Amona muricata, acetogeninas, semillas, método soxhlet, extracción, asistida con ultrasonido
Resumen
El objetivo fue evaluar la extracción de acetogeninas (ACGs) de semillas de guanábana usando diferentes disolventes, métodos y número de extracciones. El trabajo se desarrolló en cuatro ensayos. En el primer ensayo se evaluaron siete disolventes (metanol, acetato de etilo, diclorometano, cloroformo, éter dietílico, hexano, y éter de petróleo) para extraer ACGs de semillas mediante extracción asistida con ultrasonido (EAU). En el segundo ensayo se comparó la EAU, método soxhlet y disolventes, para obtener ACGs de semillas desengrasadas. En el tercer ensayo se evaluó el efecto del disolvente y número de extracciones con EAU, sobre el contenido de ACGs en endospermo desengrasado. En el cuarto ensayo, se identificaron ACGs. Se observó una mayor presencia de ACGs en los extractos de semillas completas sin desengrasar, con metanol y acetato de etilo. La EAU extrajo más ACGs a partir de la semilla completa desengrasada. Sin embargo, usando el endospermo desengrasado, EAU y cinco extracciones con metanol por 50 min cada una, se obtuvo el mayor contenido de ACGs (25.14 mg/g base seca). Se identificaron dos ACGs (annonacina, y pseudoannonacina) en proporción 73:27. Estas últimas condiciones, son una alternativa para aumentar el rendimiento de extracción de ACGs de semillas de A. muricata.
Citas
Aguilar-Hernández, G., Vivar-Vera, M.D.L.A., García-Magaña, M.D.L., González-Silva, N., Pérez-Larios, A. y Montalvo-González, E. 2020. Ultrasound-assisted extraction of total acetogenins from the soursop fruit by response surface methodology. Molecules. 25: 1-10. https://doi:10.3390/molecules25051139
Al-Dhabi, N.A., Ponmurugan, K. y Maran, P. 2016. Development and validation of ultrasound-assisted solid-liquid extraction of phenolic compounds from waste spent coffee grounds. Ultrasonics Sonochemistry. 34: 206-213. http://dx.doi.org/10.1016/j.ultsonch.2016.05.005
AOAC. 2005. Official Methods of Analysis. 18ª ed. Association of Official Analytical Chemists, Washington, D.C.
Bermejo, A.; Figadére, B.; Zafra-Polo, M.C.; Barrachina, I.; Estornell, E. y Cortes, D. 2005. Acetogenins from Annonaceae: Recent progress in isolation, synthesis and mechanisms of action. Natural Products Reports. 22: 269–303. http://doi:10.1039/b500186m
Cavé, A.; Figadére, B.; Laurens, A. y Cortés, D. Acetogenins from Annonaceae. 1997. In Progress in the Chemistry of Organic Natural Products, pp. 81–287. Springer: New York, NY, USA. http://doi:10.1007/978-3-7091-6551-5_2
Champy, P., Höglinger, G. U., Féger, J., Gleye, C., Hocquemiller, R., Laurens, A., Guerineau, V., Laprevote, O., Medja, F., Lombes, A., Michel, P. P., Lannuzel, A., Hirsch, E. C. y Ruberg, M. 2004. Annonacin, a lipophilic inhibitor of mitochondrial complex I, induces nigral and striatal neurodegeneration in rats: possible relevance for atypical parkinsonism in Guadeloupe. Journal of Neurochemistry. 88: 63-69. http://doi:10.1046/j.1471-4159.2003.02138.x
Coria-Téllez, A.V., Montalvo-González, E., y Obledo-Vázquez, E.N. 2018. Soursop (Annona muricata). Fruit and Vegetable Phytochemicals: Chemistry and Human Health; E. Yahia (ed.), pp 1243-1252. John Wiley & Sons Inc: Hoboken, NJ, USA. https://doi.org/10.1002/9781119158042.ch66
Chemat, F., Rombaut, N., Sicaire, A.G., Meullemiestre, A., Fabiano-Tixier, A.S. y Abert-Vian, M. 2017. Ultrasound-assisted extraction of food and natural products. Mechanisms, techniques, combinations, protocols and applications. A review. Ultrasonics Sonochemistry. 34: 540–560. http://dx.doi.org/10.1016/j.ultsonch.2016.06.035
Curran, D.P., Zhang, Q., Lu, H., y Gudipati, V. 2006. On the proof and disproof of natural product stereostructures: Characterization and analysis of a twenty-eight member stereoisomer library of murisolins and their mosher ester derivatives. Journal of the American Chemical Society. 128: 9943-9956. http://doi:10.1021/ja062469l
Duran-Ruiz, C.A., Cruz-Ortega, R., Zaldívar-Riverón, A., Zavaleta-Mancera, H.A., De-la-Cruz-Chacón, I. y González-Esquinca, A.R. 2019. Ontogenic synchronization of Bephratelloides cubensis, Annona macroprophyllata seeds and acetogenins from Annonaceae. International Journal of Plant Research. 132: 81–91. https://doi.org/10.1007/s10265-018-01078-3
Fasakin, A. O., Fehintola, E. O., Obijole, O. A., y Oseni, O. A. 2008. Compositional analyses of the seed of soursop, Annona muricata L., as a potential animal feed supplemnt. Scientific Research and Essay. 3:521-523. http://www.academicjournals.org/SRE
Gromek, D., Hocquemiller, R. y Cavé, A. 1994. Qualitative and quantitative evaluation of annonaceous acetogenins by high performance liquid chromatography. Phytochemical Analysis. 5: 133-140. https://doi.org/10.1002/pca.2800050309
Guedes, A.M.M., Antoniassi, R. y de Faria, M.A.F. 2017. Pequi: una fruta brasileña con usos potenciales para la industria de grasas. Oilseeds and fats, Crops and Lipids. 24: 1-4. https://doi.org/10.1051/ocl/2017040
Hassan, S., Adam, F., Abu Bakar, M.R. y Abdul Mudalip, S.K. 2018. Evaluation of solvents' effect on solubility, intermolecular interaction energies and habit of ascorbic acid crystals. Journal of Saudi Chemical Society. 23: 1-10. https://doi.org/10.1016/j.jscs.2018.07.002
Ketenoglu, O. 2020. Extraction of peanut oil using thermosonication: modeling and multiobjective optimization of process parameters using Box–Behnken design. Journal of Oleo Science. 69: 585-595. https://doi.org/10.5650/jos.ess19309
Kumar, K., Srivastav, S. y Sharanagat, V.S. 2020. Ultrasound assisted extraction (UAE) of bioactive compounds from fruit and vegetable processing by-products: A review. Ultrasonics –Sonochemistry. 70: 105325. https://doi.org/10.1016/j.ultsonch.2020.105325
León-Fernández, A.E., Obledo-Vázquez, E.N., Vivar-Vera, M.A., Sayágo-Ayerdi, S.G. y Montalvo-González, E. 2016. Evaluation of emerging methods on the polyphenol content, antioxidant capacity and qualitative presence of acetogenins in soursop pulp (Annona muricata L.). Revista Brasileira de Fruticultura. 39: 1–8. http://dx.doi.org/10.1590/0100-29452017358
Mohammadpour, H., Sadrameli, S.M., EslamI, F. y Asoodeh, A. 2019. Optimization of ultrasound-assisted extraction of Moringa peregrina oil with response surface methodology and comparison with Soxhlet method. Industrial Crops and Products. 131: 106-116. https://doi.org/10.1016/j.indcrop.2019.01.030
Morales, C.A., González, R. y Aragón, R. 2004. Evaluación de la actividad larvicida de extractos polares y no polares de acetogeninas de Annona muricata sobre larvas de Aedes aegypti y Anopheles albimanus (Dipeta: Culicidae). Revista Colombiana de Entomología. 30: 187–192. http://www.scielo.org.co/pdf/rcen/v30n2/v30n2a10.pdf
Neske, A., Hidalgo, J. R., Cabedo, N. y Cortes, D. 2020. Acetogenins from Annonaceae family. Their potential biological applications. Phytochemistry. 174: 112332. https://doi.org/10.1016/j.phytochem.2020.112332
Proaño, F., Stuart, J. R, Chongo, B., Flores, L., Herrera, M., Medina, Y. y Sarduy, L. 2015. Evaluación de tres métodos de saponificación en dos tipos de grasas como protección ante la degradación ruminal bovina. Revista Cubana de Ciencia Agrícola. 49: 35-39. http://scielo.sld.cu/scielo.php?script=sci_arttext&pid=S2079-34802015000100006
Ranisaharivony, B.G., Ramanandraibe, V., Rasoanaivo, L.H., Rakotovao, M. y Lemaire, M. 2015. Separation and potential valorization of chemical constituents of soursop seeds. Journal of Pharmacognosy and Phytochemistry. 4: 161-171.
Rupprecht, J. K., Hui, Y. H. y McLaughlin, J. L.1990. Annonaceous acetogenins: A review. Journal of Natural Products. 53: 237–278. https://doi.org/10.1021/np50068a001
Onimawo, I. A. 2002. Proximate composition and selected physicochemical properties of the seed, pulp and oil of soursop (Annona muricata). Plant Foods for Human Nutrition. 57: 165-171. https://doi.org/10.1023/a:1015228231512
Sawada, M. M., Venâncio, L. L., Toda, T. A., Rodrigues, C. E. (2014). Effects of different alcoholic extraction conditions on soybean oil yield, fatty acid composition and protein solubility of defatted meal. Food Research International. 62: 662-670. https://doi.org/10.1016/j.foodres.2014.04.039
Silva, P.B., Mendes, L.G. y Rehder, A.P.B. 2020. Optimization of ultrasound-assisted extraction of bioactive compounds from Acerola waste. Journal of Food Science and Technology. 57: 4627–4636. https://doi.org/10.1007/s13197-020-04500-8
Soto, R., Svärd, M., Verma, V., Padrela, L., Ryan, K. y Rasmuson, A. C. 2020. Solubility and thermodynamic analysis of ketoprofen in organic solvents. International Journal of Pharmaceutics. 588: 1-11. https://doi.org/10.1016/j.ijpharm.2020.119686
Wurangian, F. L. 2005. Determination of annonacin compound by high performance liquid chromatography on the extract of Annona Muricata Linn seed for pesticide formula. Indonesian Journal of Chemistry. 5: 215-218. https://doi.org/10.22146/IJC.21792
Yang, H., Li, X., Tang, Y., Zhang, N., Chen, J. y Cai, B. 2009. Supercritical fluid CO2 extraction and simultaneous determination of eight annonaceous acetogenins in annona genus plant seeds by HPLC–DAD method. Journal of Pharmaceutical and Biomedical Analysis. 49: 140–144. https://doi:10.1016/j.fitote.2009.01.005
Yang, H., Zhang, N., Zeng, Q., Yu, Q., Ke, S. y Li, X. 2010. HPLC Method for the simultaneous determination of ten annonaceous acetogenins after supercritical fluid CO2 extraction. International Journal of Biomedical Science. 4: 202-207.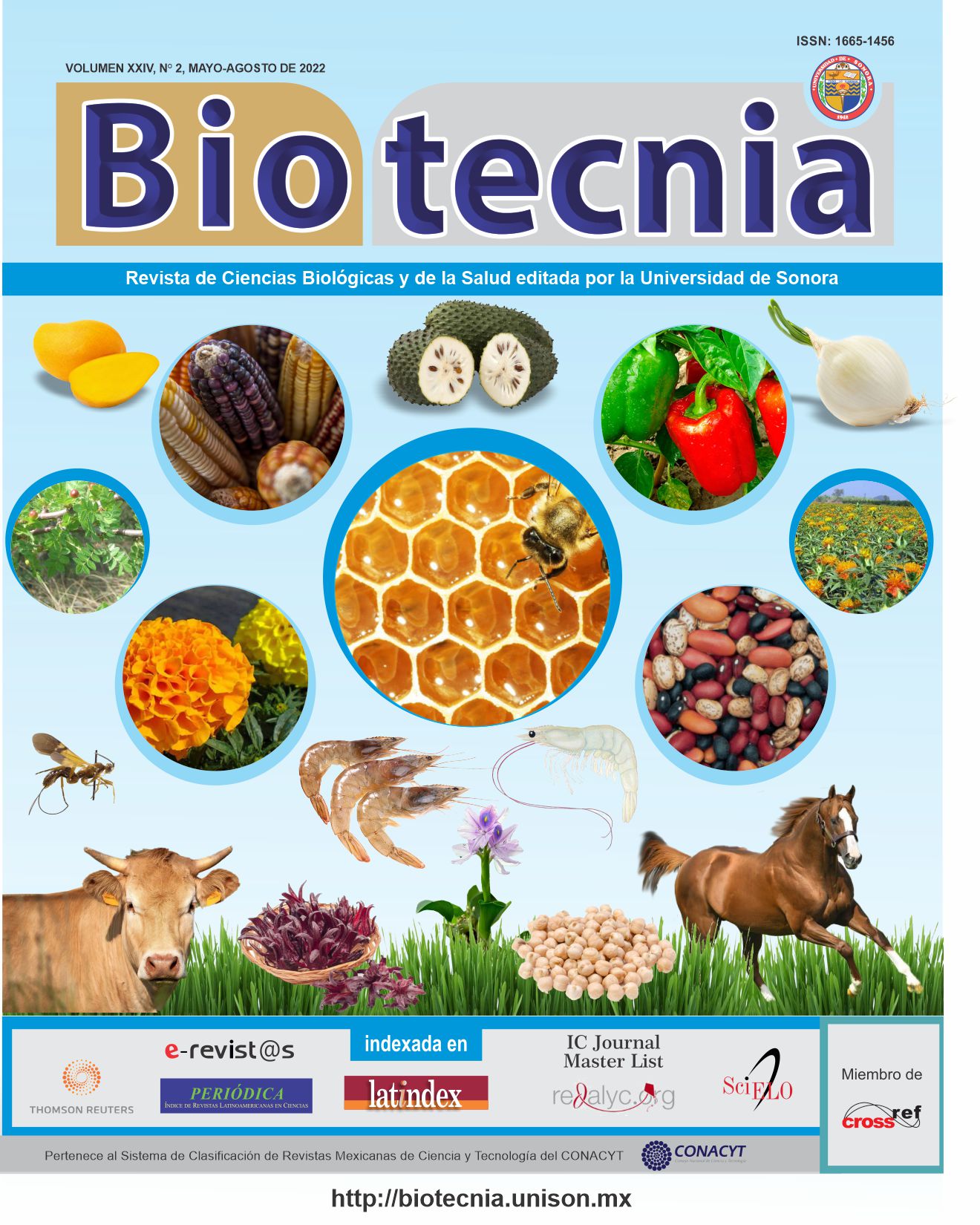 Descargas
Licencia
Derechos de autor 2022
Esta obra está bajo una licencia internacional Creative Commons Atribución-NoComercial-CompartirIgual 4.0.
La revista Biotecnia se encuentra bajo la licencia Atribución-NoComercial-CompartirIgual 4.0 Internacional (CC BY-NC-SA 4.0)