IDENTIFICATION AND CHARACTERIZATION OF Fusarium spp. FROM MUSKMELON IN NORTHWEST MEXICO
Palabras clave:
Muskmelon, Fusarium spp., Fusarium proliferatum, Molecular identification
Resumen
Muskmelon (Cucumis melo L.) is a primary crop of Mexico. Nevertheless, the fruit has a high susceptibility to postharvest fungal diseases. Fusarium species are one of the main causes of diseases that limit production of muskmelon. The objective of this study was to characterize and identify by taxonomic keys and molecular markers species of Fusarium related to rot of muskmelon var. Reticulatus in Northwest Mexico. To identify the causative agent, fruits were collectedm from cultivated fields. The isolated fungi were inoculated on muskmelon to determine its pathogenicity. Morphological analyses as well as molecular techniques confirmed that the pathogen was the fungus Fusarium proliferatum.
Citas
Aoki, T., O'Donnell, K. y Geiser, D.M. 2014. Systematics of key phytopathogenic Fusarium species: current status and future challenges. Journal of General Plant Pathology. 80: 189-201.
Araújo, N.A.F., Pasqual, M., Pio, L.A.S., Alves, E., Matos, N., Moura, N. y Costa, S.D.S. 2017. Identification and aggressiveness of four isolates of Fusarium oxysporum f. sp. cubense from Latundan banana in Brazil. Journal of Phytopathology. 165: 257-264.
Arif, M., Chawla, S., Zaidi, M.W., Rayar, J.K., Variar, M. y Singh, U.S. 2012. Development of specific primers for genus Fusarium and F. solani using rDNA sub-unit and transcription elongation factor (TEF-1α) gene. African Journal of Biotechnology. 11: 444-447.
Arellano, J.D.J.E., Menchaca, A.R., Ramos L.A.G. y Chavarría, S.L. 2017. Strategies, alliances and business portfolio to develop melon competitiveness in the Comarca Lagunera, Mexico. Nova Scientia. 9: 1-23.
Bi, Y., Ge, Y.H., Li, Y.C., Wang, J.J., Mao, X.Y. y Li, X.W. 2006. Postharvest acibenzolar-S-methyl treatment suppresses decay and induces resistance in Hami melon. Acta Horticulturae. 1: 393-399.
Blaalid, R., Kumar, S., Nilsson, R.H., Abarenkov, K., Kirk, P.M. y Kauserud, H. 2013. ITS1 versus ITS2 as DNA metabarcodes for fungi. Molecular Ecology Resources. 13: 218-224.
Booth, C. 1971. The genus Fusarium. Commonwealth Mycological Institute, Kew.
Carrieri, R., Raimo, F., Pentangelo, A. y Lahoz, E. 2013. Fusarium proliferatum and Fusarium tricinctum as causal agents of pink rot of onion bulbs and the effect of soil solarization combined with compost amendment in controlling their infections in field. Crop Protection. 43: 31-37.
Chang, K.F., Hwang, S.F., Conner, R.L., Ahmed, H.U., Zhou, Q., Turnbull, G.D., Strelkov, S.E., McLaren, D.L. y Gossen, B.D. 2015. First report of Fusarium proliferatum causing root rot in soybean (Glycine max L.) in Canada. Crop Protection. 67: 52-58.
Chew-Madinaveitia, Y.L., Vega-Piña, A., Palomo-Rodríguez, M. y Jiménez-Díaz, F. 2008. Main melon (Cucumis melo L.) diseases at different planting dates in the region Lagunera, Mexicoco. Revista Chapingo Serie Zonas Áridas. 7: 133-138.
Cunniffe, N.J., Koskella, B., Metcalf, C.J.E., Parnell, S., Gottwald, T.R. y Gilligan, C.A. 2015. Thirteen challenges in modelling plant diseases. Epidemics. 10: 6-10.
Dugan, F.M., Hellier, B.C. y Lupien, S.L. 2003. First report of Fusarium proliferatum causing rot of garlic bulbs in North America. Plant Pathology. 52: 426.
Gao, J., Wang, J., Yang, C., Wang, Y., Yang, L.N. y Lu, B.H. 2017. Fusarium proliferatum, a new pathogen causing Codonopsis lanceolata root rot in China. Plant Disease. 101: 1679.
Geiser, D.M., Jiménez-Gasco, M., Kang, S., Makalowska, I., Veeraraghavan, N., Ward, T.J. y O'Donnell, K. 2004. FUSARIUMID v. 1.0: a DNA sequence database for identifying Fusarium. European Journal of Plant Pathology. 110: 473-479.
Gerlach, W. y Nirenberg, H.I. 1982. The genus Fusarium-a pictorial atlas. Mitteilungen aus der Biologischen Bundesanst Land Forstwirtsch Berlin-Dahlem. 209: 1-406.
Ghaffar, R., Anwar, W., Imtiaz, K., Shafiq, M., Subhani, M.N. y Haider, M.S. 2016. Diversity of internal transcribed spacer (ITS) region of Fusarium isolates in Pakistan. Journal of Animal and Plant Sciences. 26: 1368-1373.
Gopi, M. y Thangavelu, R. 2014. Suppression of Fusarium wilt disease of banana by Zimmu (Allium cepa L. x Allium sativum L.) leaf extract. African Journal of Microbiology Research. 8: 2904-2915.
Guo, Y., Liu, L., Zhao, J. y Bi, Y. 2007. Use of silicon oxide and sodium silicate for controlling Trichothecium roseum postharvest rot in Chinese cantaloupe (Cucumis melo L.). International Journal of Food Science and Technology. 42: 1012-1018.
Kroon, L.P.N.M., Bakker, F.T., Van Den Bosch, G.B.M., Bonants, P.J.M. y Flier, W.G. 2004. Phylogenetic analysis of Phytophthora species based on mitochondrial and nuclear DNA sequences. Fungal Genetics and Biology. 41: 766-782.
Leslie, J.F. y Summerell, B.A. 2006. The Fusarium laboratory manual. Ames, Iowa, USA. John Wiley & Sons. Li, H.L., Yuan, H.X., Fu, B., Xing, X.P., Sun, B.J. y Tang, W.H. 2016.
First report of Fusarium pseudograminearum causing crown rot of wheat in Henan, China. Plant Disease. 100: 220.
Mahdikhani, M. y Davoodi, A. 2016. Evaluation of biocontrol potential of rhizosphere antagonist bacterial strains on Fusarium wilt and plant growth in muskmelon plants. American-Eurasian Journal of Sustainable Agriculture. 10: 15-23.
Martinelli, F., Scalenghe, R., Davino, S., Panno, S., Scuderi, G., Ruisi, P., Villa, P., Stroppiana, D., Boschetti, M., Goulart, L.R., Davis, C.E. y Dandekar, A.M. 2015. Advanced methods of plant disease detection. A review. Agronomy for Sustainable Development. 35: 1-25.
Moncrief, I., Garzon, C., Marek, S., Stack, J., Gamliel, A., Garrido, P., Proaño, F., Gard, M., Dehne, H. y Fletcher, J. 2016. Development of simple sequence repeat (SSR) markers for discrimination among isolates of Fusarium proliferatum. Journal of Microbiological Methods. 126: 12-17.
Nelson, P.E., Dignani, M.C. y Anaissie, E.J. 1994. Taxonomy, biology, and clinical aspects of Fusarium species. Clinical Microbiology Reviews. 7: 479-504.
Nguyen, T.T.X., Dehne, H.W. y Steiner, U. 2016. Histopathological assessment of the infection of maize leaves by Fusarium graminearum, F. proliferatum, and F. verticillioides. Fungal Biology. 120: 1094-1104.
O'Donnell, K., Kistler, H.C., Cigelnik, E. y Ploetz, R.C. 1998. Multiple evolutionary origins of the fungus causing Panama disease of banana: concordant evidence from nuclear and mitochondrial gene genealogies. Proceedings of the National Academy of Sciences. 95: 2044-2049.
O'Donnell, K., Ward, T.J., Robert, V.A., Crous, P.W., Geiser, D.M. y Kang, S. 2015. DNA sequence-based identification of Fusarium: current status and future directions. Phytoparasitica. 43: 583-595.
Ochoa, J.L., Hernández-Montiel, L.G., Latisnere-Barragán, H., de La Luz, J.L. y Larralde-Corona, C.P. 2007. Isolation and identification of pathogenic fungi from orange Citrus sinensis L. Osbeck cultured in Baja California Sur, Mexico. CYTA-Journal of Food. 5: 352-359.
Peltomaa, R., Vaghini, S., Patiño, B., Benito-Peña, E. y Moreno- Bondi, M.C. 2016. Species-specific optical genosensors for the detection of mycotoxigenic Fusarium fungi in food samples. Analytica Chimica Acta. 935: 231-238.
Ray, M., Ray, A., Dash, S., Mishra, A., Achary, K.G., Nayak, S. y Singh, S. 2017. Fungal disease detection in plants: Traditional assays, novel diagnostic techniques and biosensors. Biosensors and Bioelectronics. 87: 708-723.
Sanzani, S.M., Li Destri Nicosia, M.G., Faedda, R., Cacciola, S.O. y Schena, L. 2014. Use of quantitative PCR detection methods to study biocontrol agents and phytopathogenic fungi and oomycetes in environmental samples. Journal of Phytopathology. 162: 1-13.
Schoch, C.L., Seifert, K.A., Huhndorf, S., Robert, V., Spouge, J.L., Levesque, C.A. y Miller, A.N. 2012. Nuclear ribosomal internal transcribed spacer (ITS) region as a universal DNA barcode marker for fungi. Proceedings of the National Academy of Sciences. 109: 6241-6246.
Schroers, H.J., Samuels, G.J., Zhang, N., Short, D.P., Juba, J. y Geiser, D.M. 2016. Epitypification of Fusisporium (Fusarium) solani and its assignment to a common phylogenetic species in the Fusarium solani species complex. Mycologia. 108: 806-819.
Singha, I.M., Kakoty, Y., Unni, B.G., Das, J. y Kalita, M.C. 2016. Identification and characterization of Fusarium sp. using ITS and RAPD causing fusarium wilt of tomato isolated from Assam, North East India. Journal of Genetic Engineering and Biotechnology. 14: 99-105.
Sui, Y., Droby, S., Zhang, D., Wang, W. y Liu, Y. 2014. Reduction of Fusarium rot and maintenance of fruit quality in melon using eco-friendly hot water treatment. Environmental Science and Pollution Research. 21: 13956-13963.
Stakheev, A.A., Khairulina, D.R. y Zavriev, S.K. 2016. Four-locus phylogeny of Fusarium avenaceum and related species and their species-specific identification based on partial phosphate permease gene sequences. International Journal of Food Microbiology. 225: 27-37.
Stępień, Ł., Koczyk, G. y Waśkiewicz, A. 2011. Genetic and phenotypic variation of Fusarium proliferatum isolates from different host species. Journal of Applied Genetics. 52: 487-496.
Summerell, B.A., Laurence, M.H., Liew, E.C. y Leslie, J.F. 2010. Biogeography and phylogeography of Fusarium: a review. Fungal Diversity. 44: 3-13.
Tamura, K., Stecher, G., Peterson, D., Filipski, A. y Kumar, S. 2013. MEGA6: molecular evolutionary genetics analysis version 6.0. Molecular Biology and Evolution. 30: 2725-2729.
Tooley, P.W., Goley, E.D., Carras, M.M., Frederick, R.D. y Weber, E.L. 2001. Characterization of Claviceps species pathogenic on sorghum by sequence a 3 region and EF-1α gene intron 4. Mycologia. 93: 541-551.
Vargas-González, G., Álvarez-Reyna, V.D.P., Guigón-López, C., Cano-Ríos, P., Jiménez-Díaz, F., Vásquez-Arroyo, J. y García- Carrillo, M. 2016. Pattern of use high risk pesticides in the crop of melon (Cucumis melo L.) in the Comarca Lagunera. Ecosistemas y Recursos Agropecuarios. 3: 367-378.
Wang, Y., Xu, Z., Zhu, P., Liu, Y., Zhang, Z., Mastuda, Y. y Xu, L. 2010. Postharvest biological control of melon pathogens using Bacillus subtilis EXWB1. Journal of Plant Pathology. 92: 645-652.
Wang, J.H., Zhang, J.B., Li, H.P., Gong, A.D., Xue, S., Agboola, R.S. y Liao, Y.C. 2014. Molecular identification, mycotoxin production and comparative pathogenicity of Fusarium temperatum isolated from maize in China. Journal of Phytopathology. 162: 147-157.
Wang, R.Y., Gao, B., Li, X.H., Ma, J. y Chen, S.L. 2016. First report of Fusarium solani causing Fusarium root rot and stem canker on storage roots of sweet potato in China. Plant Disease. 100: 650.
White, T.J., Bruns, T.D., Lee, S.B. y Taylor, J.W. 1990. Amplification and direct sequencing of fungal ribosomal RNA genes for phylogenetics. In: Innis M.A., Gelfand, D.H., Sninsky, J.J. y White, T.J. PCR protocols: A Guide to Methods and Applications. New York, NY, Academic Press, pp 315-322.
Yuan, L., Bi, Y., Ge, Y., Wang, Y., Liu, Y. y Li, G. 2013. Postharvest hot water dipping reduces decay by inducing disease resistance and maintaining firmness in muskmelon (Cucumis melo L.) fruit. Scientia Horticulturae. 161: 101-110.
Zarrin, M., Ganj, F. y Faramarzi, S. 2016. Development of a polymerase chain reaction-restriction fragment length polymorphism method for identification of the Fusarium genus using the transcription elongation factor-1α gene. Biomedical Reports. 5: 705-708.
Zhao, Q., Ran, W., Wang, H., Li, X., Shen, Q., Shen, S. y Xu, Y. 2013. Biocontrol of Fusarium wilt disease in muskmelon with Bacillus subtilis Y-IVI. BioControl. 58: 283-292.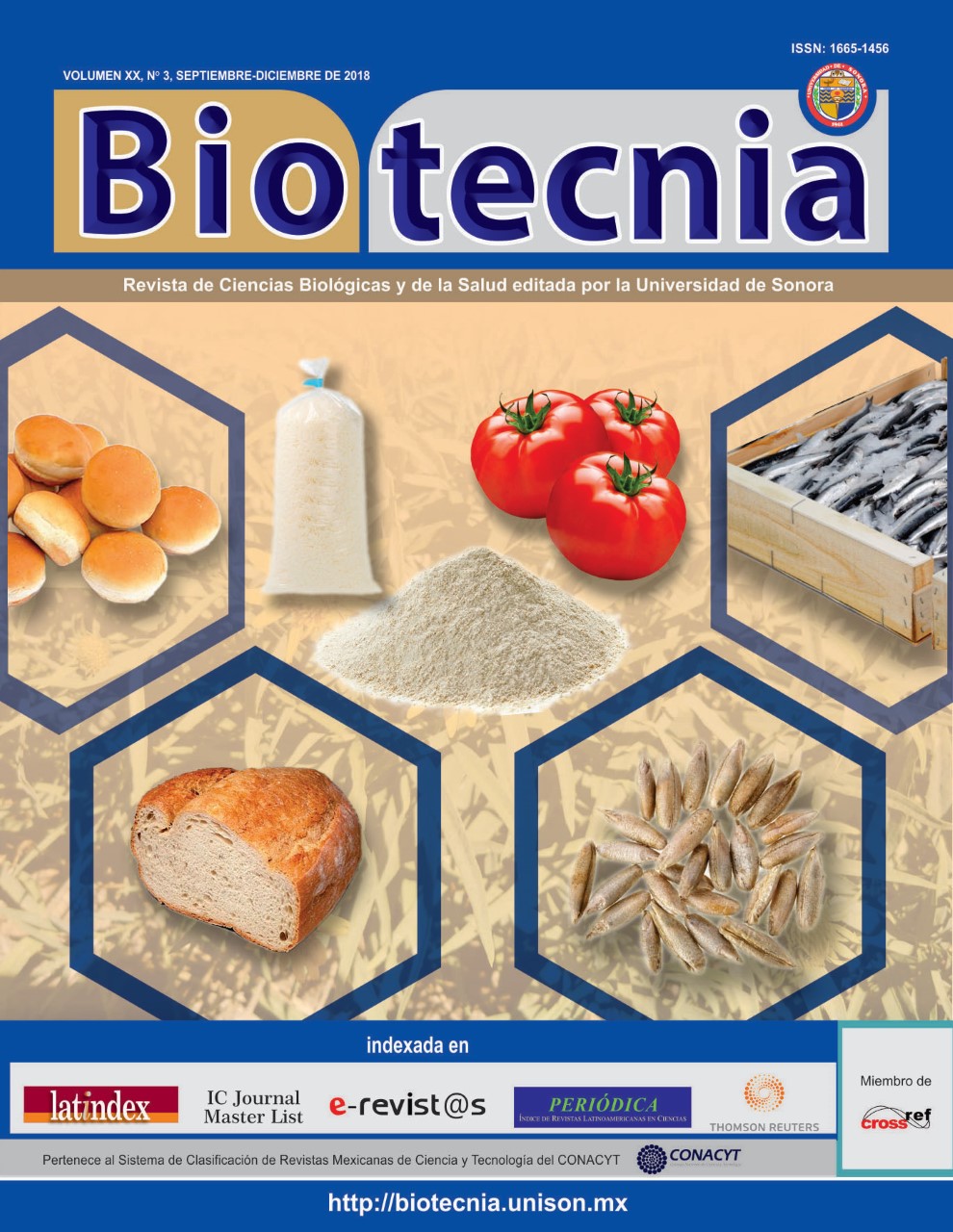 Descargas